/

RESTORING DIGNITY
A DOCUMENTARY BY INEDIZ IN COLLABORATION WITH MSF
The documentary 'Restoring Dignity', by the French filmmakers Claire Jeantet and Fabrice Catérini and produced by Inediz in collaboration with MSF, follows the journey of noma survivors across Nigeria. Some are children, like Sakina and Umar; some are teenagers, like Amina and Adamu; and others are adults who have lived for decades with the terrible physical and psychological consequences of this disease, like Mulikat and Aliyu.
Watch the trailer for the noma documentary
The International and African Premiere of the film took place in May 2019 in Dakar, Senegal. Since then, the film has been selected in 13 festivals in Africa, Europe and the US and won four awards in Copenhagen, Dallas, Los Angeles and London. To watch the film on Vimeo VOD platform, check for events in your city or host a screening please check: www.restoring-dignity.com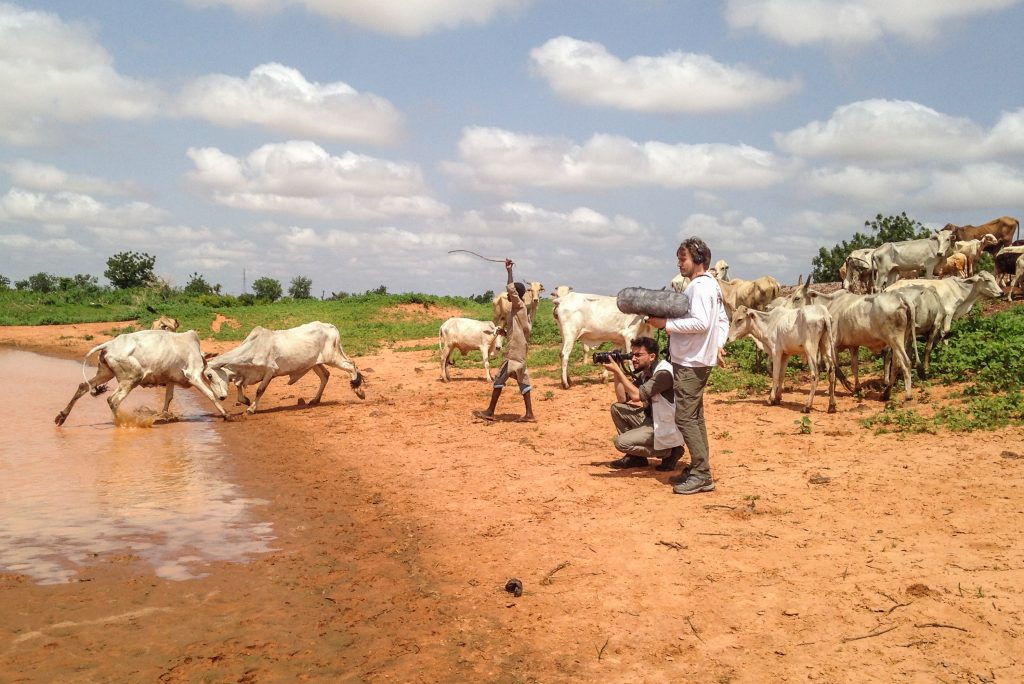 Noma causes terrible consequences in a very short space of time, but the healing and reconstruction processes can take many months and years. This is an injustice all survivors and their dear ones experience. This dramatic distortion of the time struck us as soon as we arrived at Sokoto Noma Hospital in November 2016.
When you first see the face of a noma survivor, it takes you some time to connect with the person. It's not easy to perceive their mood or read a look. Rejected by their communities and sometimes by family members, they have sadly learnt to hide their injuries behind a scarf.
As photographers and filmmakers, our objective with this documentary project was to capture what's left of a disfigured human being. How dignity, and therefore beauty, can be preserved beyond a life-changing experience that affects the face, the very first means of connecting with others. In the documentary, survivors speak for themselves and each of the rare and precious words that they shared with the camera was a step forward for them to explain what they feel and for us to understand.
We created a genuine connection with people through repeated visits to Sokoto and our continued interactions with them. We wanted them to not only be in the film, but also to be part of the filming process and the message we wanted to communicate.
When we showed them the results of our work, it was for many the first time they had ever seen an image of themselves. The pictures of the disfigured faces soon became a unique material proof of what had happened to them, a record of their faces before going into surgery. These still photo portraits appear in the film as a reminder of our approach in the field, and also questions the way we all look at ourselves and how this affects our interactions with others.
The disfigurement of noma survivors, and the deaths of many from noma each year, can and should be prevented by improving living conditions and providing access to healthcare. By sharing their stories with dignity, the people in this documentary help us gather a visual diary of physical and psychological consequences of a disease that shouldn't exist anymore.
Claire Jeantet and Fabrice Catérini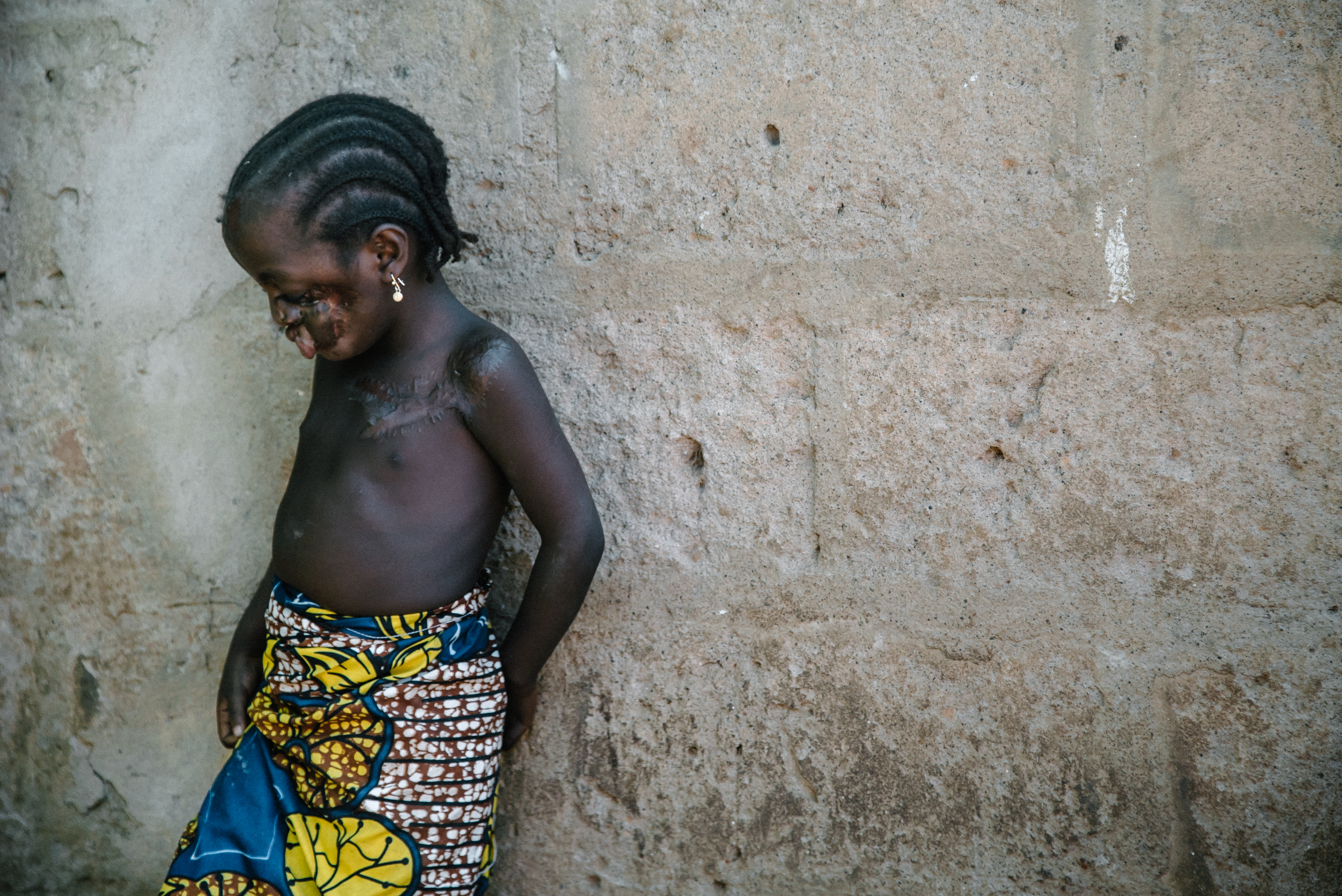 We suffered a lot but she survived.
Hauwa, Sakina's mother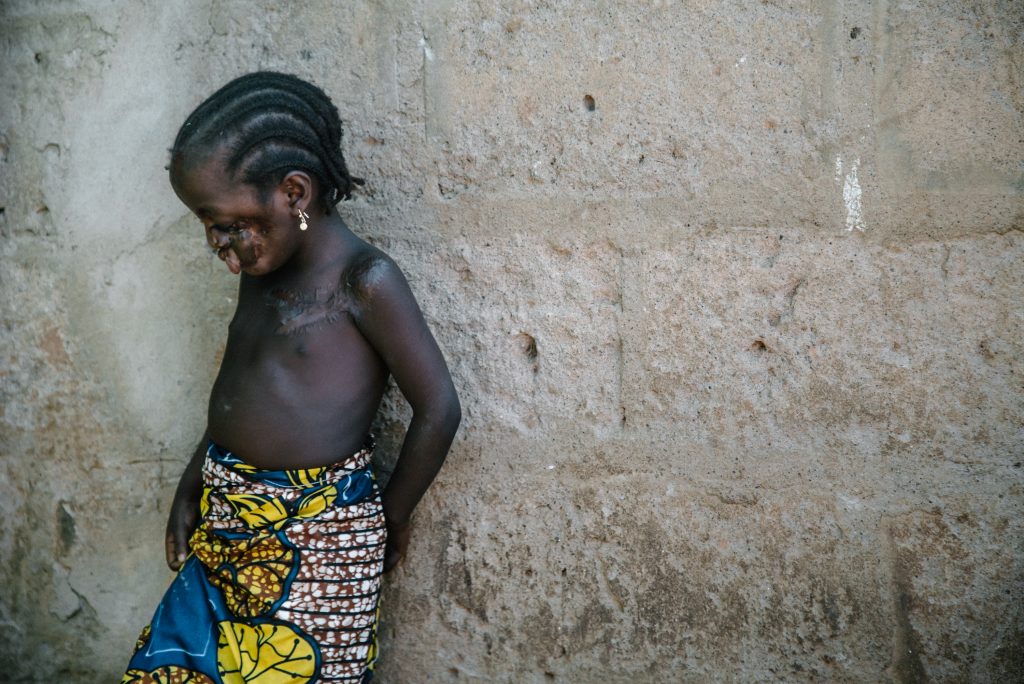 We suffered a lot but she survived.
Hauwa, Sakina's mother
The film was made over the course of a year in Sokoto, Nigeria. This allowed a sense of trust and confidence to develop between the filmmakers and the patients. They opened their hearts and their homes to the film crew to show how noma pushed them into a life of social challenges, discrimination and sacrifices. For them and their loved ones, the Noma Hospital in Sokoto and the MSF reconstructive surgery project represented the hope of restoring their lives and the chance to go back home with new opportunities.
ADAMU, 14
After 14 visits to the hospital, Adamu was selected for nose reconstruction surgery. His father tells the story of their long struggle since the day Adamu and his brothers got sick with measles, and how Adamu ended up affected by noma. He had three operations in 2017 and now, aged 14, his nose has been reconstructed. Beyond the visual success of the operation, the impact of the surgery on Adamu has been huge.
AMINA, 18
Amina remembers when she was first affected by the disease and how a hole suddenly formed in her cheek. Suffering lockjaw as a result of the infection, she has faced a lot of discrimination. Reconstructive surgery is crucial for her, at an age when local girls are starting to get married. She shares this challenge with her friend Murjanatu, also a patient in the hospital. Studious and diligent in her prayers, Amina is a sweet teenager who is willing to learn and sometimes still acts like a little girl, playing with a cuddly chicken or reading children's stories.
ALIYU, 27
A herdsman and member of the Fulani community, Aliyu remained serene and smiled through the whole process of the reconstruction of his nose. Aliyu always wears a black-and-white scarf over his shoulders in the hospital; he uses it to cover his face when in his village. His wife, Nana Asmaou, explains how she encourages him to take it off, and why she stayed with him after his two previous wives fled, frightened by his disfigurement.
MULIKAT, 32
Operated on several times over the past 20 years, Mulikat is a former noma patient who now lives and works in the hospital as a health promoter. By sharing her story, she wants to give hope to other patients and help them build their self-confidence. Still living with the physical consequences of the surgery, Mulikat is a funny and proud woman who likes to dress well and spend time with her friends.
SAKINA, 4
Her sister Aisha remembers that Sakina almost died before the family managed to get to Sokoto Noma Hospital. Though she has already had three operations, the girl still suffers frequent relapses because of malnutrition and poor living conditions. Her mother, Hauwa, is her constant companion, the only person who wants to eat with her. Most of the time both dress in the same fabric, but as much as Hauwa is trying to help her daughter, she is also limited by her lack of education and her family's poverty. She cleans Sakina's wounds with a dirty towel, not knowing the damage this could cause.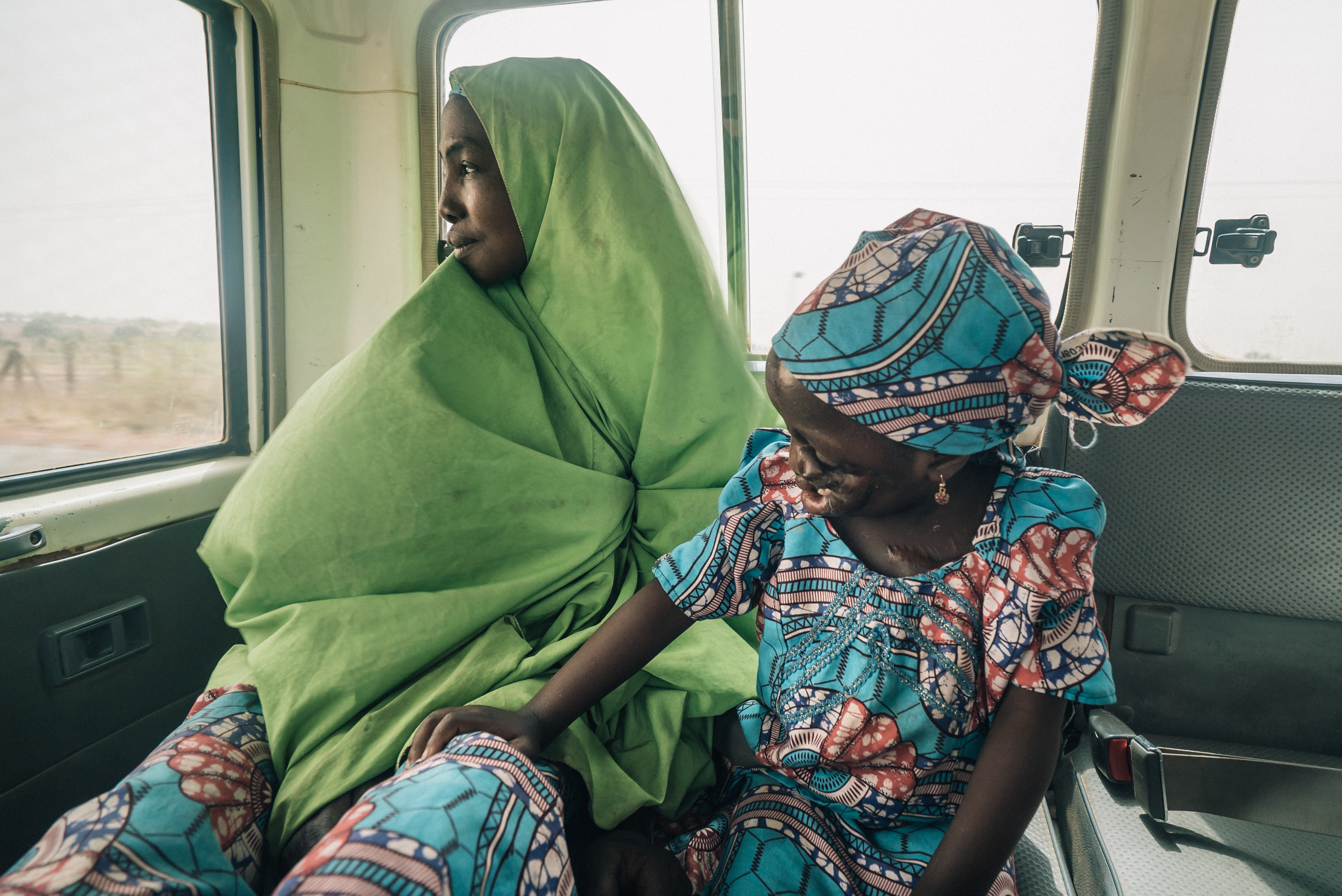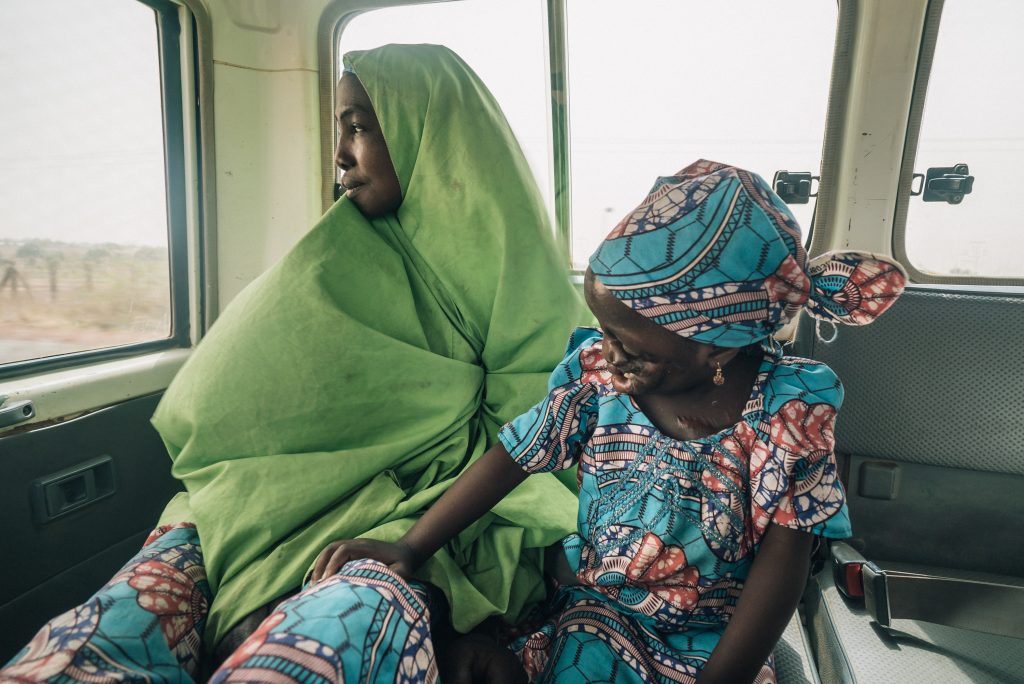 Adamu's screening
Adamu, a 14-year-old teenager from Kebbi state, has a screening session to determine whether he is suitable for surgery
Aliyu and Nana
Nana is married to Aliyu, a 27-year-old herdsman from Sokoto state who has undergone a successful reconstructive surgery.
Adamu's screening
Adamu, a 14-year-old teenager from Kebbi state, has a screening session to determine whether he is suitable for surgery.
Aliyu and Nana
Nana is married to Aliyu, a 27-year-old herdsman from Sokoto state who has undergone a successful reconstructive surgery.
Footnotes: Drawings & infographics by Chloé Fournier / Pictures & Videos by Claire Jeantet & Fabrice Caterini © Inediz - All rights reserved